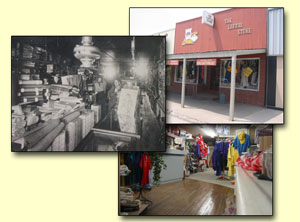 The Loftus Store Cookbook
1879 - 2009
In 2009, The Loftus Store celebrates its 130th year as a retail business on main street in De Smet, South Dakota. To commemmorate this milestone wh would like your help. We would like to compile a cookbook, and our goal is to have recipes from all over the worl, especially all fifty states. We already have a couple of familes from Australia, one from China, and several from Canada that were excited when I told them about the cookbook. So if you are reading this and have a favorite recipe or several recipes, we would live you to share them with us. Your recipe will be printed with your name, city, state and country. If you have any relatives from another part of the United States that you think would like to participate, please send them to this web site.
There are two ways to contribute recipes. One is to email it to chad@loftusstore.com and be sure to include all the information that you would write on the actual submission form (link below). The other way is to print out the form (link below) and mail it to : De Smet Flowers, P.O. Box 464. De Smet, SD, 57231. Please be careful to include correct spellings. This way the recipe is ready to go to the printers and will avoid a great deal of hassle in transferring the recipes to the cookbook.
If you have any questions, please call the Loftus Store at 605-854-3773, and ask for Chad. Otherwise, feel free to email any questions to chad@loftusstore.com. The goal is to collect all recipes during summer and fall of 2008, organize the recipes in January and February, and have the book back from the printers in May. If you would like to purchase one or more, please include your email address with your recipes so I can email you when the books become available so those that share their recipes can have first chance at a book.
Thanks for helping us celebrate our 130th Anniversary!
Recipe Submission Form: Click here to download PDF.