New Gifts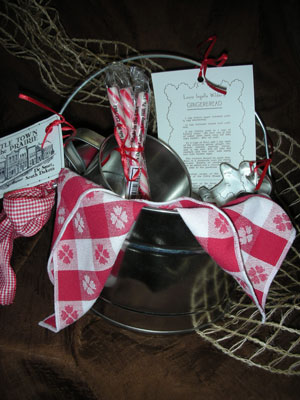 Remember the tin lunch pail Laura would carry her lunch to school in or the Tin Cup that she received as a gift for Christmas and it had peppermint candy sticks and a shiny penny. Pail $11.00/Cup $6.00/Laura's gingerbread recipe & cutter $2.50/ Candy Sticks 5/$1.00. For that little Laura fan, how much fun would it be to receive these for a birthday or Christmas?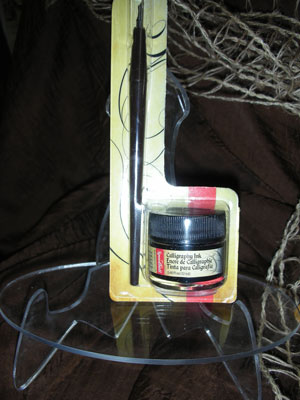 Talk about going back in time. How much fun would your child or grandchild have with a bottle of ink and a pen like Laura use to use. Ink Well and Pen Set is only $12.50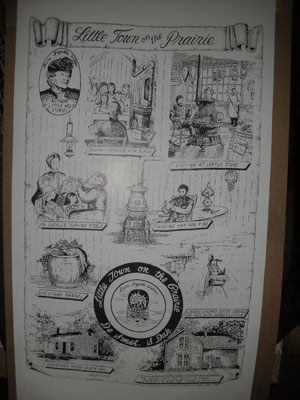 Many years ago this poster you are viewing was a tapestry. We have had it as part of our décor and every year we have many people ask to buy it so we have had it made into a poster. White poster paper with a dark brown ink. Size: 17"x30" $29.00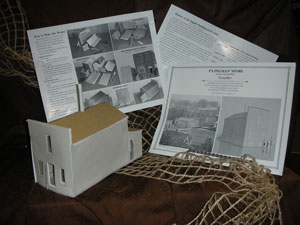 Bet you don't have a model of "Pa's Store". Here is a step by step kit to assemble your very own mock up of Pa's building. It never did become a business. The Ingalls lived in it during the Long Winter and before it could become a business, it burnt. Your packet of Pa's Store contains the history of the Ingalls Building, Card stock parts to cut out and assemble and instructions to build it. It really is a fun project for the "older" Ingalls fans. $9.00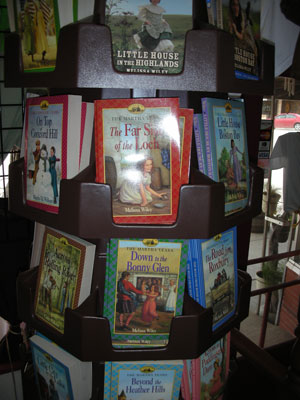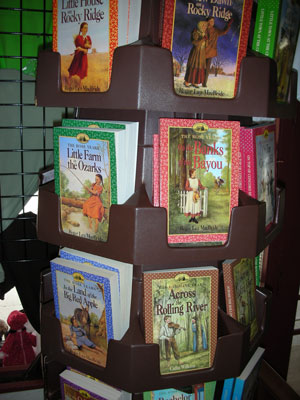 Out of Print..... Charlotte Years, Rose Years, Caroline Years and Martha Years. All of these books are no longer being printed. We happen to have a few of the older "Un-abridged" books. 2 or 3 in some of the harder to find ones and 4 or 5 in some of the not so popular ones. When these are gone we will no longer be able to get them. These books are selling for $15 to $25, depending upon our stock. If your missing any, don't wait too long.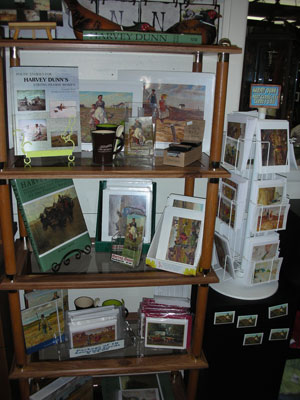 Harvey Dunn, an Illustrator & Painter of the Pioneer West. Harvey Dunn lived in a small town just a stones throw from De Smet during the same period the Ingalls lived here. Mr. Dunn is well known for his "Prairie Pictures" of pioneer girls and women on the prairie. We have a small assortment of prints, postcards, books, notecards, bookmarkers, note cards and a few gifty items. Call for pricing.
The Loftus Store is featuring it's first Jigsaw Puzzle. 160 pcs for $14.99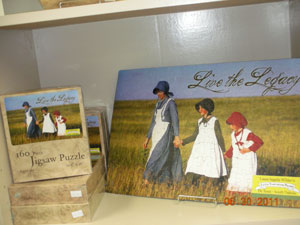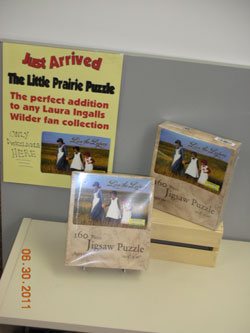 A New book-"The Wilder Life" by Wnedy McClure is her adventures following in Laura's footsteps and giving her opinion of all the places Laura lived. Regular $25.95, our special price $23.95.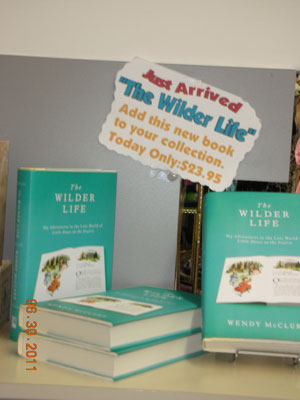 Mr. Loftus was where Laura and Carrie purchased Pa's Christmas suspenders. When visiting De Smet be sure to stop in at the Loftus Store and we will custom fit you with a FREE pair of Twine Suspenders.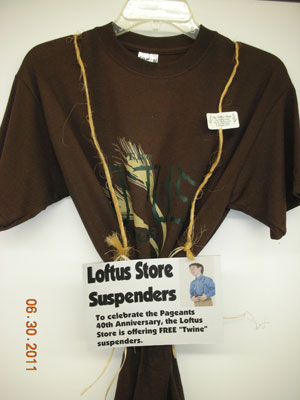 The kids will love these new multi color/pattern skinny T's. Sizes Sm-Xlg. $23.00 will have your kids wearing the latest in fashion.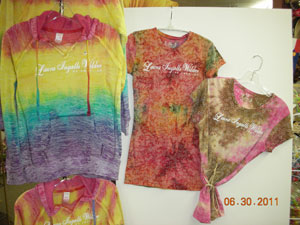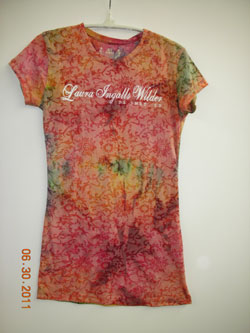 The newest hoodie is our tye-dyed in every color of the rainbow, Only $42.00 Adult Sm-2xL.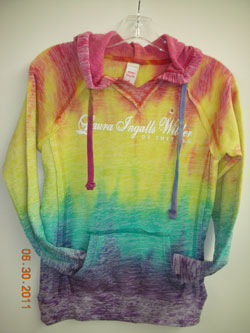 Harvey Dunn was in De Smet at the same time as Laura and is known for his prairie paintings. We feature some of his prints on cards, magnets, postcards, bookmarks, puzzles and prints.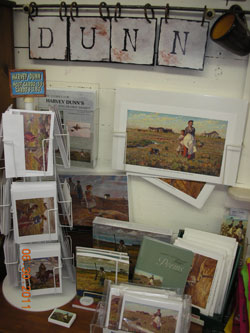 Maybe tye-dye is not for you, we have a nice 3 button pullover hoodie in the hotest colors of Kiwi, Blueberry amd Watermelon. Any color looks great with jeans or kaki's. Sizes Sm-XXL Only $40.00.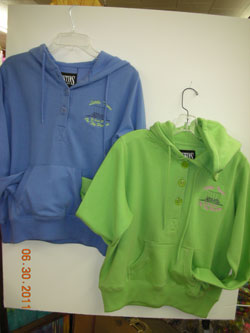 Featured Items
Good Morning Mrs. Ingalls
Hanging in the Loftus Store is the original painting by Ron Becker and available to you are prints for $70.00 and notecards for $7.99.

UCC Church Cookbook

From the church that Pa built and helped start in De Smet comes a great cookbook from its members. If you are looking for fantastic food, or for a fantastic gift, this is perfect. This cookbook was put together by the UCC Women's Fellowship and they sold over 400 copies locally. This is now the second printing of the book and a portion of the sale is going to the church. You can order a cookbook for only $12.95 plus $3.00 shipping. If you want more than one we can lower the shipping charges. Call the Loftus Store at 605-854-3773. We accept Visa/MC and Discover or your can prepay with a check or money order.
Souvenirs
Custom Stationery, note pads, coloring books, recipe cards, magnetic pads, mini murals and mailers are available.
Collectible spoons, mugs, lapel pins and charms. Key chains, letter openers, pocket knives, shot glasses, tree ornaments and pencils. Also we have sewing kits, bracelets, bells and necklaces, all with the Little Town on the Prairie, De Smet, SD insignia.
Old fashioned stick candy in many flavors, rock candy, horehound, and lemon drops. Even pure sugar peppermint sticks like Laura loved to buy here. Are you looking for Jack the bulldog, or Susan the cat? We have them for only $6.99.
Click for a Photo Gallery of our Souvenirs
New: Click here for additional souvenirs.
Dresses
Simple bonnets to complete period dress ensembles all made locally to fit and girl or lady. Calico prints may vary. We have girls' sizes 6-8 through adult ladies sizes. Special sizes can be made to order. Please allow 6 to 8 weeks for completion. Prices for a single bonnet start at $15.99 and the little girl complete prairie dresses with matching bonnets start at $64.99. Also available is our matching bonnet/apron combo for $25.00.
Click for a Photo Gallery of our Dresses
Dolls
Handmade Charlotte dolls in two sizes: 11" and 15". Several options are available too. A complete doll is $24.99. A doll with matching nine-patch quilt is $28.99, and a doll, quilt and matching apron and bonnet for the little girl to play dress-up is $45.00.
We have many other collectible dolls from rag to porcelain starting at $4.99 to $115.00 and everything in between. A Baby Grace doll is only $12.99.
Click for a Photo Gallery of our Dolls
Collecting Memorabilia?
You can own a piece of the original Loftus Store that Pa help build. We salvage wood and square nails when renovation was being done. A five inch piece of wood and two inch nails are only $8.99.
Mr. Loftus purchased wheat during the Long Winter from a local farmer because the train could not get through and everyone was near starving. Cap Garland and Almanzo Wilder went east of town 20 miles to get it and bring it back. Mr. Loftus was the town hero. We have miniature bags of wheat for $3.99. Unique Loftus Store magnetic bookmarks are only $1.99 each, or 3 for $5.00
Books
Looking for a book written by or about Laura Ingalls Wilder? We have several. Boxed sets, individuals, hard and soft cover. We have Caroline, Martha, Rose, and Charlotte books. Laura's Album is here too. If we don't have what you are looking for, we know where to get it. Just out-- the nine book series in full color and glossy white pages with crisp clear wording.
T-Shirts and Sweatshirts
We have the largest selection of t-shirts and sweatshirts in town. A brilliant variety of colors with a rainbow print of a covered wagon embossed with Little Town on the Prairie, De Smet, SD available in sizes youth 2/4 to adult 3X.
Are you looking for something less bright? A cinnamon and butter cream t-shirt is embossed with Little Town on the Prairie and in small gold print, South Dakota. How about an embroidered t-shirt or sweatshirt. It is enhanced with stick lettering that spells out Laura Ingalls Wilder, De Smet, South Dakota, and is accessorized with a bonnet, small horse heads, covered wagon and a sod house. Something really unique is a shirt that changes color in the sun. It is black and white indoors and turns colored out of doors. The scene is a prairie picture. This design also comes in a tote bag.
Click for a Photo Gallery of our Gifts
Phone orders are welcome. Call us toll free at 866-335-3271. We accept Visa/MC, Cashiers Check, and Money Orders. Call us for Shipping quotes.